The last thing we want to be is a financial burden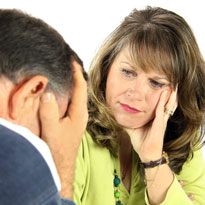 The average cost of a contested divorce in Canada is between $15,000 and $20,000. Between expensive legal fees, multiple visits to two separate lawyers, and filing and court fees, the money coming out of your pocket adds up fast. If you are divorcing with children the costs can be much higher as sorting out custody and child care arrangements often means repeated visits to a lawyers office and the courtroom. Our mediation services keep you out of a lawyer's office until all the details are handled and papers are in your hand, ready to be filed.  Here at Kelowna Divorce we aim to offer a peaceful and financially sound solution to the dissolution of your marriage.
We're something different
Choosing to seek separation or divorce is challenging enough before adding financial worries into the mix. By choosing a neutral divorce mediator you are already on the right track to lowered costs. Mediation is an attractive alternative to court proceedings in cases where decisions regarding child care and the division of assets have already been reached. Part of the appeal of mediation services is the much lower price tag than traditional court handled divorce. Our mediation services keep you out of the courtroom, free from costly and unnecessary lawyers visits, and empowered to make decisions that are right for you.
We're here to work for you
We understand your unique financial needs and do not ask for a big retainer before we meet. We welcome any questions regarding our rates and strive to remain open about costs during the mediation process. We treat each case individually and are happy to discuss financial obligations and options before mediation begins. We take the hardship out of financing divorce by working with you to find a payment plan that you can comfortably afford. Contact us today to set up a Consultation and discover your financing options with Kelowna Divorce.
About Kelowna Divorce Mediation Services
We are not expensive lawyers; we are family divorce mediators.  Our boutique divorce mediation firm has become Kelownas' first choice when dealing with separation and divorce. It is possible to reduce stress, time and conflict. Our mediation model educates and empowers our clients, so that when you leave you have a document that will stand the test of time.