Parenting Plans and Parenting Responsibilities 
Let our experts help you craft a parenting plan that works for everyone.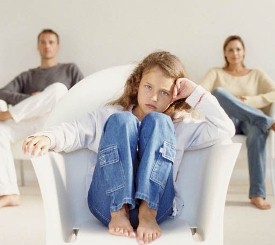 A critical part of divorce is ensuring that the health and well being of children are made a priority. Crafting a concise parenting plan that contains workable agreements saves parents a lot of money, time, and stress and it is better for your children. Children are harmed more by ongoing arguments between parents and by the anxiety they feel when their parents can't co-operate about things that affect their daily lives than they are harmed by the act of separation itself. When children know that a plan is written down and can predict the shape of their lives, they will be able to manage the stresses and fears of the separation much better. Having a trained mediator present during the drafting of a parenting plan can also reduce the stress and tension between the divorcing couple.
The B.C. Family Law Act
The new Family Law Act places childrens' safety and best interests first when their parents are going through separation and divorce. The new act also clarifies parental responsibilities when marriages and common-law relationships break down, addresses family violence, as well as encourages couples to resolve their disputes out of court. The law adopts new, child-centered language intended to place the focus on the best interest of the child from a personal and legal standpoint. The law defines an "agreement" as a written contract made between former spouses after they separate. A parenting plan falls under this definition of an agreement. The law includes a section outlining the basics of what can be included in a parenting agreement and makes any written parenting plans filed in court enforceable by law.
What is a parenting plan?
A parenting plan is a document created by both parents that stipulates who is responsible for which parts of childcare and rearing. The plan details when the child will be with each parent and how parenting decisions will be made. While individual parenting plans will be as unique as the families who use them, all plans require similar basic elements to make them effective.
What is generally included in a parenting plan?
Parenting plans deal with anything related to the daily care, wellbeing, and development of your child. Through planning and compromise, parents decide ahead of time who the children will live with, when time will be spent with each parent, and when children will spend time with other people such as extended family members, family friends, step-parents, siblings, and other individuals important to the child. Plans also decide how parental responsibilities will be handled relating to finances, healthcare, education, hobbies, and holidays and special occasions. Successful plans also include a set process detailing how parents will talk about and come to agreements on the important, long-term issues as the children grow and needs and circumstances change. Working with a professional mediator during the drafting of a parenting plan keeps stress low and decreases the likelihood that court proceedings will be necessary.
"Build a plan that puts your child first."
If you need help with drafting a parenting plan, give us a call –
250.707.0928, or request a consultation.